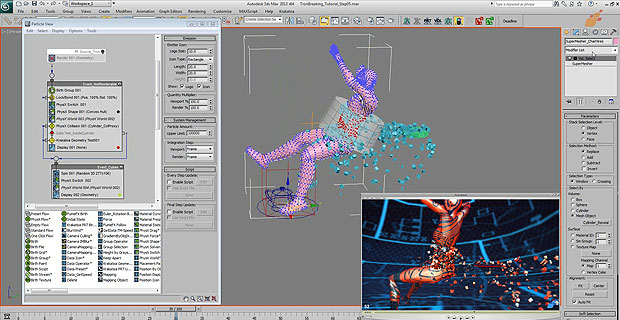 This mParticles (formally known as the Particle Flow Toolbox #2 or "Box2" for short) tutorial shows you how to achieve a "Tron Legacy" style disintegration. In addition to the tutorial you should download the free updated Max2010 Biped Collection (http://usa.autodesk.com/adsk/servlet/ps/dl/item?siteID=123112&id=13390051&linkID=9241178) as well as the "Deconstructor" by Marc Lorenz (http://populate3d.com/products/legacy-plugins).
There is a variety of caching tools you can and should use to get to the final results.
– "Supermesher": http://www.boomerlabs.com/cart/product.php?productid=16&cat=6&page=1
– Thinkbox's "XMesh": http://www.thinkboxsoftware.com/xmesh
– And the free script "PFlow Baker": http://www.scriptspot.com/3ds-max/scripts/pflow-baker
The video is 60 minutes long in 1280×700 WMV format and the download features the start setup as well as the final setup without caches.
Check these vimeo videos for a suggested final result:
Buy it now for $15 through PayPal
By clicking the button below, I agree with the
Terms & Conditions
.
All scene files set up with 3ds Max 2010-64 bit.