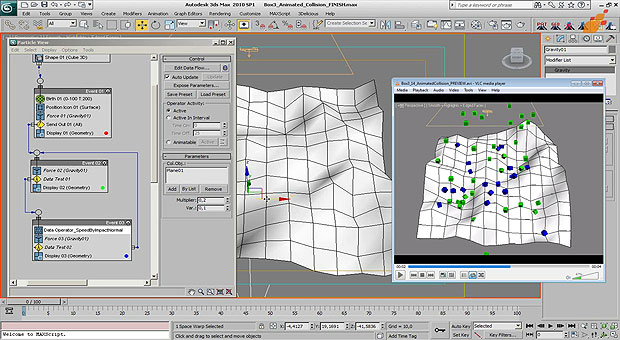 The formerly known PFlow Toolbox#3 is now integrated into 3dsmax 2014 and called "Advanced Data Manipulation". This tutorial teaches how to set up an animated collision object without mParticles (former Toolbox#2). The old legacy UDeflector will only detect an animated shape at it's state of impact and not update the animation of the shape to PFlow. To counteract this flaw get this tutorial 🙂
Check these vimeo video for a suggested final result:

The video is 11 minutes long in 1280×720 WMV format and the download features the start and final setups, as well as screen shots.
Buy it now for $8 through PayPal
By clicking the button below, I agree with the
Terms & Conditions
.
All scene files set up with 3ds Max 2010-64 bit.