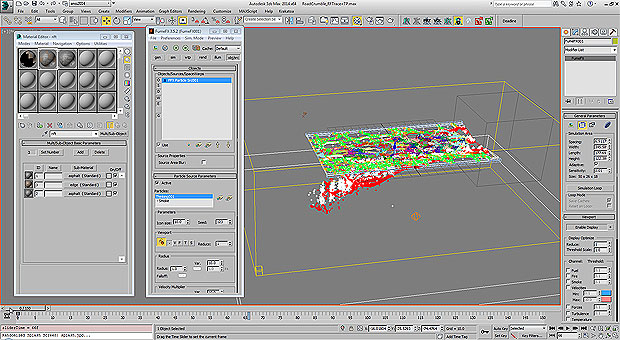 This tutorial shows you how to setup and simulate a street crumble using the RayFire Tracer tool as well as Thinking Particles and FumeFX. Learn how to prepare fast trace maps from texture reference and how to bring all this into TP and set up a crumble system that is stackable. Set up small procedural detail debris from crack edges as well as dynamically spawned particles for FumeFX to simulate dust upon breaking. The video is 84 minutes long in 1280×720 WMV format and the download features the final max file as well as the trace map that was used.
Check a vimeo of the final results:
Buy it now for $18 through PayPal
By clicking the button below, I agree with the
Terms & Conditions
.
All scene files set up with 3ds Max 2014-64 bit, RayFire 1.62, Thinking Particles 5.1.1 and FumeFX 3.5.1 was used for this tutorial.