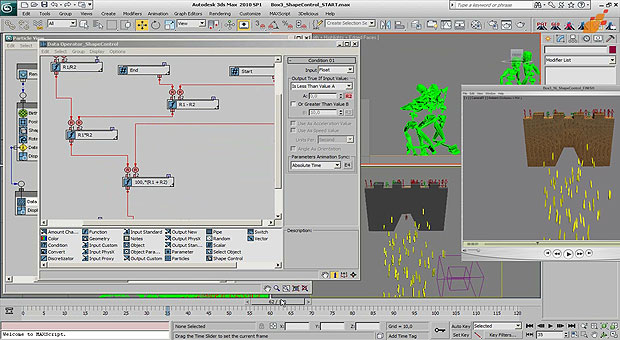 The formerly known PFlow Toolbox#3 is now integrated into 3dsmax 2014 and called "Advanced Data Manipulation". Learn how to manipulate modifiers in 3dsmax through particle data. With shape control and object parameter sub operators you can read data from a max modifier and in reverse put values out of Box#3 into a modifier like a morph target percentage based on particle distance. As a practical example this more advanced tutorial sets up a fort with guards that duck down as arrows approach blending from one morph target to another. The bonus scenes cover approaching boulders and bend angle breaking triggers.
Check these vimeo video for a suggested final result:


The video is 25 minutes long in 1280×720 WMV format and the download features the start and final setups, as well as screen shots, previews and bonus scenes.
Buy it now for $15 through PayPal
By clicking the button below, I agree with the
Terms & Conditions
.
All scene files set up with 3ds Max 2010-64 bit.