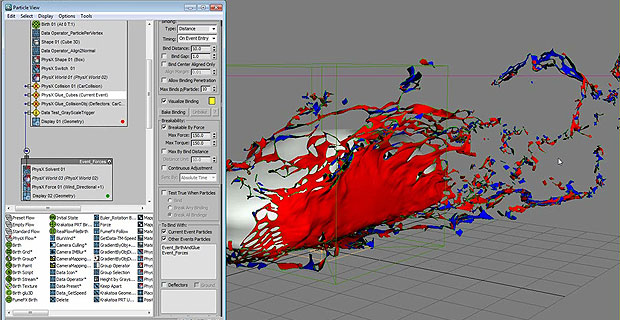 This tutorial shows you PFlow Simulation and PFlow advanced data manipulation. How to setup a ripping and tearing system. This works for multiple occasions but is shown in the case of a car peeling the "old" version off to reviel the brand new model. This tutorial is using the Particle Flow Toolbox #2 and #3. (It is recommended to have caching tools like SuperMesher or XMesh). The video is 74 minutes long in 1280×720 WMV format and the download features the final max file without external plugins (other then mentioned). NOTE that the hires car used in the second vimeo video is from an Evermotion.org Car Collection and used with permission. The featured max file will not have this car featured.
Check a vimeo video of the final result:


Buy it now for $14 through PayPal
By clicking the button below, I agree with the
Terms & Conditions
.
All scene files set up with 3ds Max 2010-64 bit.